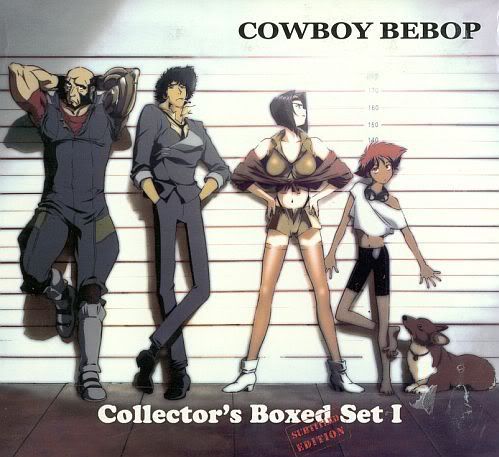 Cowboy Bebop is an animated Japanese television series. It was directed by Shinichiro Watanabe and written by Keiko Nobumoto and produced by Sunrise. It consisted of 26 episodes. The series followed the adventures of a group of bounty hunters traveling on their spaceship, the Bebop, in the year 2071.
Cowboy Bebop was a commercial success both in Japan and international markets, notably in the United States. After this reception, Sony Pictures released a feature film, Knockin' on Heaven's Door to theaters worldwide and followed up with an international DVD release. Two manga adaptations were serialized in Kadokawa Shoten's Asuka Fantasy DX.
Cowboy Bebop has been strongly influenced by American music, especially the jazz movements of the 1940s, 1950s and 1960s and the early rock era of the 1950s, 1960s and 1970s. Many of its action sequences, from space battles to hand-to-hand martial arts combat, are set and timed to music. Following the musical theme, episodes are called Sessions, and titles are often borrowed from album or song names (such as Sympathy for the Devil or My Funny Valentine), or make use of a genre name ("Mushroom Samba") indicating a given episode's musical theme.
Cowboy Bebop almost did not appear on Japanese television due to its depictions of violence. It was first sent to TV Tokyo, one of the main broadcasters of anime in Japan. The show had an aborted first run from April 3, 1998 until June 19, 1998 on TV Tokyo, broadcasting only episodes 2, 3, 7 to 15 and 18.
Later that year, the series was shown in its entirety from October 23 until April 23, 1999, on the satellite network WOWOW. With the TV Tokyo broadcast slot fiasco, the production schedule was disrupted to the extent that the last episode was delivered to WOWOW on the day of its broadcast. Cowboy Bebop won the Seiun Award in 2000.
The full series has also been broadcast across Japan by the anime television network, Animax, who has also aired the series via its respective networks across Southeast Asia, South Asia and East Asia. Cowboy Bebop was popular enough that the movie, Cowboy Bebop: Tengoku no Tobira (Knockin' on Heaven's Door), was commissioned and released in Japan in 2001, and later released in the United States as Cowboy Bebop: The Movie in 2003.
In a 2006 poll by TV Asahi, Cowboy Bebop was voted 40th for Japan's all-time favorite anime.