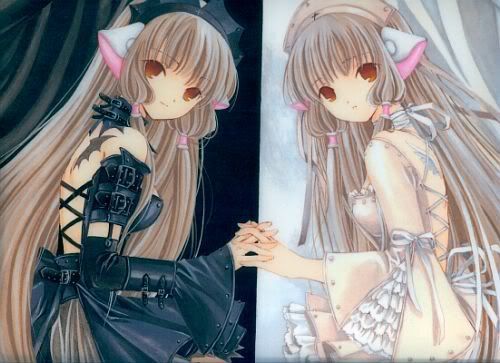 Chobits is a Japanese manga created by Clamp (a Japanese mangaka group).
It was published by Kodansha in Young Magazine from February 2001 to November 2002 and was collected in eight bound volumes.
Unlike most stories by Clamp, Chobits is a seinen (manga that is generally targeted at an 18–30 year old male audience) series, specifically of the magical girlfriend variety, using robotics and computers as a subplot.
Chobits is commonly mistaken for shōjo (manga marketed to a female audience roughly between the ages of 10 and 18) because of its strong romantic themes and flowery art style.
Chobits was adapted as a 26-episode-long anime television series broadcast on TBS and Animax from April to September 2002.
It has spawned a video game as well as merchandise such as figurines, collectable cards, calendars, and artbooks.
The series tells the story of Hideki Motosuwa, who finds an abandoned persocom, or personal computer with human form, that he names Chi after the only word she initially can speak. As the series progresses, together they explore the mysteries of Chi's origin and questions about the relationships between humans and persocoms. The manga is set in the same universe as Angelic Layer, taking place a few years after the events of that story, and like Angelic Layer, it explores the relationship between humans and electronic devices shaped like humans. Chobits branches off as a crossover to many other stories in different ways, such as Tsubasa: Reservoir Chronicle and xxxHolic.
Technorati Tags: Chobits Angelic Layer anime manga japanese japan cartoons cartoon girls comics animation art girl hot